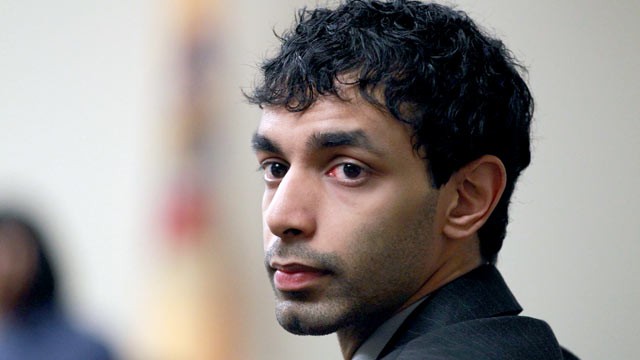 If you missed the show, check out the link here or below. Plus you can Subscribe to our PODCASTS on iTunes and never miss our show!
1. Did Dharun Ravi get a deal?
We began this week's show with an update on the case of Dharun Ravi who
was sentenced to 30 days in jail in addition to a $10,000 fine, three years probation and
community service this past week. Ravi was on trial for his role in the
unfortunate suicide of his roommate, Tyler Clementi, a gay student who
had recently come out when Ravi used a webcam to record him involved in
an intimate moment with another student. This case has stirred up a lot
of controversy and the sentencing has been criticized by many for being
overly lenient. We spoke with Michael Carr, former Rutgers student and
New Jersey area activist, and Yasmin Nair, a Chicago based activist and
writer, about the case and their reactions to the sentencing. Carr
described his reaction as being one of both surprise and relief as he
did not believe that the judge should have thrown the book at Ravi and
Nair discussed the weaknesses that this case exposed in hate crimes
laws. We were also joined by Lee Carson of the Black Gay Men's Leadership
Council and Dan Goldman of LeGAYlize It who both agreed with Ravi's sentencing but disagreed about whether or not this case could
have constituted a hate crime. Additionally, though everyone in the
studio had differing opinions on the sentencing, everyone seemed to
agree that Ravi is probably an a**hole, but sort of forgot that you can't say that word on the radio. Listen to the segment here or below.
2. Chicago's NATO Problem
Also on the show we take a quick look at the events that went down in
Chicago last week and over the weekend during the NATO summit. We were
joined by Scott Kimball, a member of Iraq Veterans Against the War, who
spoke about the protests that took place and about his experience
participating in a march that culminated in him and several other
soldiers returning their medals as a rejection of NATO's policies and
the wars that we are currently engaged in. Kimball also discussed the
need to end the war in Afghanistan. Check that segment here or below.
3. Violating the Violence Against Women's Act
Finally on the show we look
at the battle that has broken out around the reauthorization of the
Violence Against Women Act (VAWA). Since its initial passage back in
1994, VAWA has been one of those rare pieces of legislation that has
always enjoyed bipartisan support and has been continually reauthorized
and broadened in subsequent years without incident. That is until
recently when Florida congresswoman Sandy Adams sponsored a House
version of the bill which removes some of the protections that Senate
version maintained and a huge partisan battle began brewing. We were
joined on the show by Michelle Ortiz, the director of the LUCHA Project
at Americans for Immigrant Justice, and Monika Johnson Hostler,
Executive Director of the North Carolina Coalition Against Sexual
Assault and President of the National Alliance to End Sexual Violence,
to discuss what VAWA is and why they believe that the House version of
the bill guts the spirit of the law. Listen to the segment here or press play below.
Also, if you are in central Florida, don't forget to check out the rally in support of Marissa Alexander. See the flyer and a message from Marissa's children below…